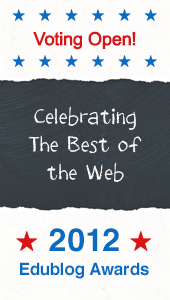 This afternoon I received an e-mail from the folks at EduBlogs. Edublogs is a platform for teachers, students and administrators to blog about their world. There are some really amazing sites among the 1,508,550 blogs hosted there. And the Eddies are the Edublog awards for outstaning educational blogs in a variety of categories.
Now I am not going to recommend that you look at all of the blogs that have been nominated and vote in each of the individual categories (not that that would be bad). I am going to be a little more narrowly focused (self-serving?).
From time to time, I have been asked to serve as a guest scholar with groups of teachers and synagogue educators, often to talk about technology in the Jewish classroom and in the educator's professional tool box. Sometimes, people just want to know what is out there for them to use and to share some ideas about how to use it. Other times it is about helping veteran teachers -digital olim (immigrants) and tayarim (tourists) get comfortable with the idea of incorporating some digital tools in their repertoire. Sometimes it is both and more. In each case I share a link to my spreadsheet of tech tools and invite them to add tools they find - and to evaluate the ones on my list. It is a massive exercise in crowd sourcing and I learn from it regularly. You are now invited as well. Click here.
So when Edublogs published their list of nominees, I knew the crowd had hit the mother load! Now all of the nominees are blogs, not tools themselves per se. Many of them are blogs about connecting people to the tools that are becoming available on a daily basis. One of my go to blogs is Free Technology for Teachers, Richard Byrne's outstanding blog. He finds the coolest stuff, often before I have ever heard of the category. And the obvious applications from the general ed world to Jewish education are easy. So I have added the nominees as a second page to my list. I encourage you to check some of them out. Please share reviews of what you find here or on the spreadsheet. And go to http://edublogs.org/ and see what they have to offer. Or click on the image above and vote!