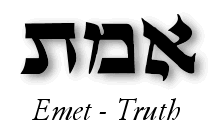 I have said before that one of the principal reasons I became a Jewish educator had to do with my experiences at Olin Sang Ruby Union Institute – a Reform Jewish summer camp in Oconomowoc, Wisconsin. I was a camper, counselor, unit head and faculty member over twelve summers there. I am at Eisner Camp in Great Barrington, Massachusetts right now for my sixteenth summer as a faculty member. That means I have spent part of more than half my summers at camp.
One of the things the faculty does at Eisner is called Kesher (connection). We each create a series of small group learning experiences for the older units of camp during our time here. This week my Kesher class is called Do the Right Thing: An Eisner Joint. The overall themes were determined by surveying last summer's campers during the winter and we (the faculty – rabbis, cantors and me) each designed our courses and created descriptions in the spring. Then they got to express their own preferences. Her is the description of my current offering:
You are faced with tons of choices every day. Some you make automatically. Others require some serious thought. Where do you look for the values you will apply to make your decisions? Your parents? Your friends? Society all around us? Judaism? We are going to look in all of those places to wrestle with some tough issues. Then we are going to take our conversation online and go viral. We will create a blog using writing and video and send it out to the universe. Then we will see what the universe says and engage in a potentially viral conversation!
Today we discussed three questions around the concept of Emet – truth. Here are the questions and some of their answers. We discussed them at length after they wrote them. Please respond here or on Facebook to the questions or to their answers. We will look at your ideas in our next session! I am using initials to protect their privacy…
1. Do you think it is ever okay to omit something when sharing something important?
Yes, not telling the whole truth to protect someone's feelings is acceptable. When someone asks about someone else, it's okay to highlight the good parts of their personality and stopping there. AM

Yes, to keep me from getting into copious amounts of trouble. HS

Sometimes telling the WHOLE truth can distract from what you are trying to say. TJ

Yes, when saying something would hurt someone without having any positive effect, or to keep a promise. RK

Yes, if it would endanger someone. SI

Yes, if it would help someone. For example, if they were afraid of fire but loved roller coasters, and you knew this great roller coaster had flame throwers, you might not tell them. That way they would try the roller coaster and love it. If they knew about the flame throwers they might not ride. (There was a lot of conversation about this!) MW

It might depend on the age of the person you are talking to. Some things might be too complicated or frightening for young children. HR

You might choose not to tell the whole truth in order to keep a confidence – something you promised to keep secret. GM

Yes, if the whole truth would do more harm than good. TT

Yes, if it is to protect someone's privacy. RA

It's okay if it doesn't alter the entire story. JE
2. Do you think it is ever okay to sugar coat the truth?
Yes. When hate something your parent made for dinner, you might gently urge them not make it again or so often… MW

It depends on the situation and who benefits. LG

No. I is better to be honest so the person you are talking to doesn't embarrass themselves. SI

Yes, like #1, this can spare someone's feelings or keep a situation from going bad. JD

Ok in a teaching situation. RK

It's OK in order to make someone feel better or more confident. My friend was nervous about coming to camp and I told her that lots of our friends were excited to see her. I exaggerated a little bit to make her feel better. AP

No, because it is only hurting yourself more and it does not do anything to help you – even though I do sugar coat it sometimes! MP

Yes, ignorance is bliss! DE

Yes. Sometimes a little sugar coating can make a hard truth easier to take. JJ


3. Do you think is ever okay to actually lie?
Yes, although it is best to avoid it if at all possible. JJ

Yes, but only if the truth is really painful and doesn't need to be told. MP

Yes, to save a life, protect from unnecessary harm or if it is a harmless joke. NS

It is okay to lie when the answer won't hurt anyone and it'll make somebody feel better. To me, it's all about making people happy and balancing that with telling the truth. RK

To shield them from harm. HS

Intentions matter. LG



Yes, if it will help people in the long run. MW
Again, please help our conversation and our learning by jumping in! More tomorrow!