Full disclosure: Josh Mason-Barkin found this and posted a section of it on his blog, Yikes. Dahlia Lithwick wrote and posted it on Slate.com where she is a senior editor. I tweeted and Facebook shared his posting and contacted Dahlia for permission to re-post which she granted. Incidentally, it turns out the Lisa she refers to is another friend! There are only two degrees of separation in the Jewish world. I think the chatimah is that given the opportunity and the call to lead, people will step up even if they are not drawn to leadership naturally.
Our first seder was led by two sisters in a room filled with 40 people including two rabbis and two Jewish educators (who were not called upon to lead happily). They were magnificent and took us successfuly from slavery to redemption.
And they step up beautifully!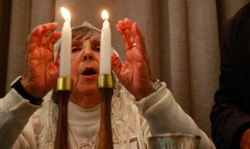 How do we choose who will lead the seder?
Who's going to lead the Seder?
By Dahlia Lithwick

Posted Tuesday, April 19, 2011, at 1:02 PM ET

How do we decide who leads the Passover Seder? Something seems to happen to all the thirtysomething Jewish people I know at Passover. They stare deep down into their own hearts, then look deep down at their own feet, and then ask—in some equal measure of panic and despair—"But who's going to lead the Seder?"

I can't tell you how many conversations I have had this month with friends who have been attending Seders for over 30 years: folks who are adept at Hebrew, familiar with every song, and are nevertheless paralyzed by the prospect of actually leading a Seder of their own. There's something about Passover that makes even the most competent among us crave some real grown-ups, while disavowing the possibility of our own grown-up-ness at the same time. It would be deeply Gen X, were it not for the fact that I'm starting to suspect it might be timeless.

I wonder if my father felt this way when my grandfather died and he and his brothers seemed to slide so effortlessly into his place. I wonder if my grandfather once felt this way as well. Maybe everyone has that sense of sheer fakery and fraud when sitting at the head of the table for the first time.

Even if this anxiety is universal, the irony is rather breathtaking, when you think about it: The word Seder means "order." Every action and word required of us is spelled out in the Haggadah with the precision and clarity of a NASA launch sequence. That so many of us feel unequal to the task of doing something so structured is amazing.

At the Seder last night, someone suggested that leading has in fact become more complicated in our time. Our fathers and grandfathers read aloud or assigned reading to others. Everyone knew the tune and the page. But leading the Seder in 2011 can involve complex choreography, the frog song, the store-bought plague paraphernalia, the extratextual readings, and other heroic efforts to be inclusive/relevant/child-friendly and compelling. The days of mumbling before the brisket and mumbling after the brisket have morphed into something requiring the timing, sensitivity, and theatricality of a performance artist.

It's true, furthermore, that whereas our fathers and mothers tended to go to the same Seder year after year, the members of our ambulatory generation have probably attended several different kinds of Seders, each of which had a slightly different take on how to get from the four questions to Dayenu. So despite the "order" there is no longer a standard format. And with every new Seder, guest, and song, what it means to "lead" the Seder becomes more ambiguous and panic-inducing.

There also seems to be a secret, lingering sense among my women friends—women who own their own businesses and publish books, by the way—that leading a Seder is still somehow a man's job. And even if you went to Hebrew school, even if you know each word by heart, even if you're as good at this stuff as your grandpa once was, and even if in every other context you are the source of Jewish tradition and learning in your household, somehow the feeling still persists among some women (myself included) that on Passover the daddies lead and the mommies ladle.

Passover is really the only Jewish holiday in which most households tap some layperson to be professional clergy for a night, and—as my friend Lisa observed yesterday—it's thus apt that this holiday celebrates one of the most reluctant leaders in all of biblical history. Here is poor Moses, begging to be relieved of the responsibility of Sherpa-ing his people from one dusty place to another—pleading unfitness, a speech impediment, and the absence of meaningful leadership qualities. And here we all are, thousands of years later, pleading unfitness, performance anxiety, and the absence of meaningful leadership qualities.

Stop me if this is starting to sound familiar.

Maybe the real lesson of Passover is that nobody—in any generation—feels fit to lead a bunch of other people, but they do it anyway, because in the end somebody has to. Maybe it's not just the story of the Exodus we are passing down from generation to generation, but the trick of leading, when all you ever wanted to do was follow.

http://www.slate.com/id/2291597/